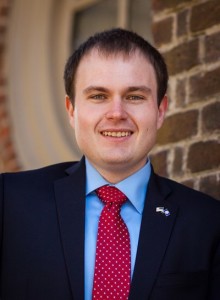 Adam L. Tolbert was first elected Chairman of the Ninth Congressional District Committee of the Republican Party of Virginia on April 12, 2014 by the delegates attending the 2014 Ninth Congressional District Republican Convention in Wytheville, Virginia.  He was re-elected without opposition to a second two-year term by the 2016 Ninth Congressional District Republican Convention in Wytheville, Virginia on April 9, 2016.  He has been extremely active in the Republican Party for many years serving as an activist, volunteer, and in various leadership roles.
Chairman Tolbert's interest in the Republican Party began at a young age in elementary school when he would accompany his parents to meetings and campaign events of the Republican Committee in Smyth County. Those meetings and campaign events sparked his interest in politics and he began to become increasingly involved in the Republican Party over the years as a result.
Chairman Tolbert has served in leadership roles at all levels of the Republican Party:  precinct chair, unit vice chair, unit chairman, a Republican candidate for local office, State Central Committee Member, and now Congressional District Chairman.
Chairman Tolbert holds a Bachelor of Arts degree in Government/Political Science from The University of Virginia's College at Wise and a Master of Science degree in Management from Liberty University.  He is a graduate of the Sorensen Institute for Political Leadership at the University of Virginia where he completed the Candidate Training Program (CTP) in 2008 and the Political Leaders Program (PLP) in 2014.
Chairman Tolbert works professionally in the fields of higher education and Information Technology.
He is a native of and resides in Smyth County, Virginia.